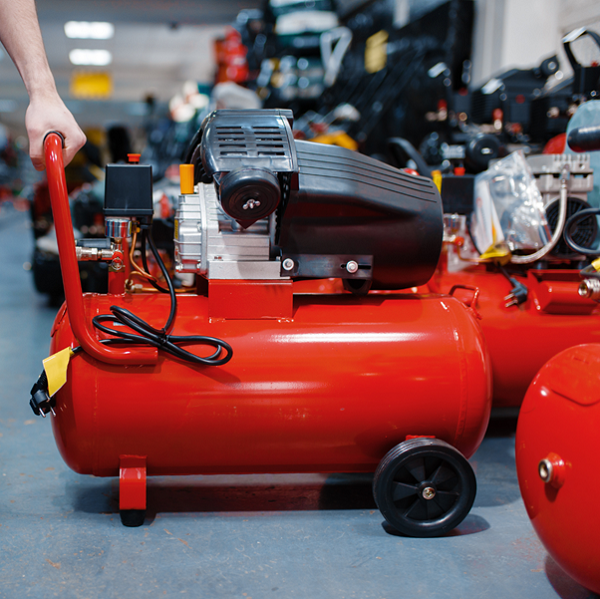 Air compressors are one of the most crucial machinery pieces in different industries. The agriculture sector uses an air compressor in Singapore in their spraying machines for spraying pesticides and fertilisers.
Air compressors are also in woodworking and metalwork tools, such as nail guns and sandblasting machines. Construction equipment, such as jackhammers, also uses compressed air.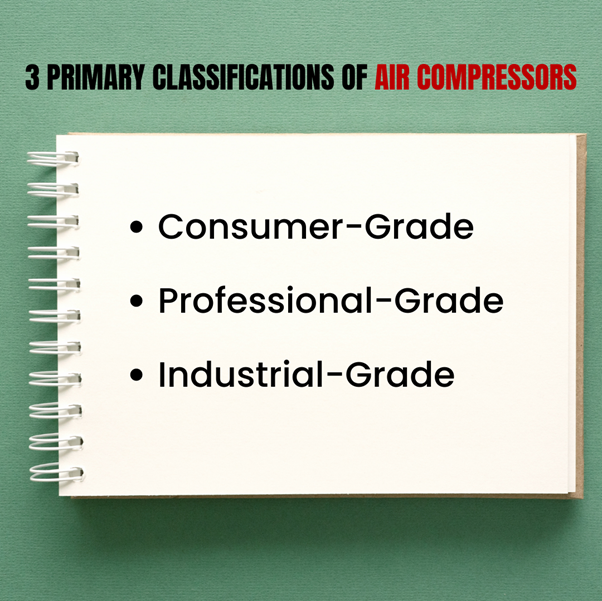 Consumer-Grade
Consumer-grade air compressors are suitable for household use, such as inflating inflatable materials.
Professional-Grade
More powerful than the consumer-grade, professional-grade air compressors can power two or more pieces of equipment with its pressurised air simultaneously. A screw air compressor in Singapore is an example of a professional-grade air compressor.
Industrial-Grade
Industrial-grade air compressors are for manufacturing use. It can withstand 20/7 operations and is energy-efficient and durable.
Frequently Asked Questions About An Air Compressor In Singapore
1. HOW DOES AN AIR COMPRESSOR WORK?
The primary purpose of an air compressor is to pressurise normal air to generate energy. What air compressors do is suck in normal air, force and squeeze it into a tank, reducing its volume and pressurising it.
The best and simplest illustration of an air compressor is inflating a balloon. Forcing the air through the balloon by inflating it creates pressure. Then you can generate energy by releasing the gushing air by untying the balloon's opening.
2. WHAT IS THE IDEAL FREQUENCY FOR OIL CHANGE?
Although there are oil-free varieties of air compressors, the majority of oil compressors in the market still use oil. The rule of thumb for an oil change is three months. But it still depends on the instruction of the manufacturer or air compressor supplier in Singapore.
On the other hand, a rotary screw air compressor in Singapore needs an oil change every 7,000 to 8,000 hours of operation. Without oil, the components of your air compressor will begin to rub against each other, creating friction and shortening the lifespan of the equipment.
3. HOW OFTEN SHOULD YOU CLEAN OR REPLACE THE FILTERS OF YOUR INDUSTRIAL AIR COMPRESSORS?
Air compressors also have air filters. It is advisable to clean the filters weekly, especially if you use your air compressor in Singapore more than three days a week.
Not cleaning your filters will only result in damage to the filters. Additionally, filters are harder to clean when they are full of debris. There is also a high risk of contamination with dirty filters.
4. HOW TO REDUCE CONTAMINANTS IN YOUR AIR COMPRESSOR?
An air compressor in Singapore has tons of contaminants. The air quality itself, oil in air compressors, and debris in the filter, pipes, storage receivers and other equipment components can contaminate the pressurised air.
There are two ways to reduce contaminants in your air compressors. The first way is to ensure the air it intakes is free of impurities. Avoid choosing dusty and smoky locations for air intake sites. Examples of these locations are highways, construction areas, and industrial areas.
The second way is to use high-quality air filters and clean or replace them regularly. These filters trap debris and impurities as the air passes through them.
Are you ready to buy and use an air compressor in Singapore? These answers will help you kickstart your journey with air compressors.
Beng Chuan Machine is a top-notch air compressor supplier in Singapore. Visit Beng Chuan Machine today.