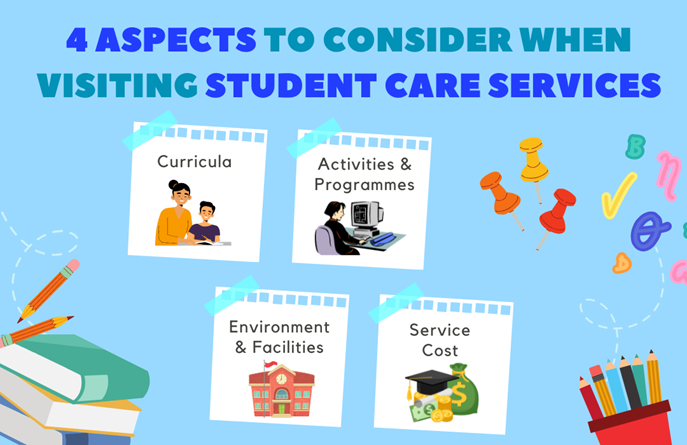 Parents in Singapore have access to a limited number of after-school care options and student care services. Not many parents can leave their child with family members at home or trust a domestic assistant with their child. Primary schools provide school-based student care and are within the school. On the other hand, community-based care generally refers to licensed and professional student care centres. Many family service centres around Singapore also offer student care on the island. They are community-based programmes that help and support parents and children in their roles.
The following are the four aspects the services concentrate on providing.
#1 Curricula
Community-based after-school care centres provide services that offer more curricular flexibility. Aside from homework assistance, they also provide tutoring, reading, and enrichment programmes. They want to instil a passion for learning via these activities. School-based student care services centre their curricula on homework monitoring and fundamental rote memorisation learning methods. However, traditional rote learning is no longer as effective or relevant in today's rapidly changing educational environment.
#2 Activities & Programmes
School-based student care services have services limited to providing just after-school care. They adhere to the school's timetable. Thus, they cannot provide student care on weekends or during holidays. Community-based operators offer various programmes to meet parents' diverse needs and preferences. These programmes include half-day after-school care and full-day school vacation care.
#3 Environment & Facilities
School-based student care centres execute their programmes using the school's existing facilities. Moreover, many parents prefer them since the centre is within the school. Hence, they offer a straightforward, hassle-free, and convenient alternative. However, if you value providing your child with the best possible learning environment, community-based student care services are a much safer choice. These centres offer students the best possible after-school experience. Their facilities include designated locations for meals, clean, roomy classrooms, and other interactive aspects.
#4 Service Cost
Community-based student care centres add additional value to children's lives via improved academic supervision, facilities, and programmes. Academic support may even help parents save money on supplementary tuition, making them a more cost-effective option. Moreover, since you can visit family service centres around Singapore to get these services, families pay little to no fees.
The PPIS (Persatuan Pemudi Islam Singapura) is a non-profit community service organisation dedicated to empowering women. The services collaborate with 16 centres around the island to provide excellent and holistic help, including fostering. They seek to assist women of all ages with their numerous societal obligations. Visit PPIS to learn more about the organisation, its different programmes, volunteering opportunities, and fostering and student care services.