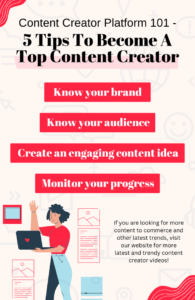 Digital content creator platform is a growing trend for many young and enthusiastic content creators over the web. Today, one of the many ways to measure success in social media and marketing is through the number of followers. Niche content creators are rising, and many utilise the latest trends in the industry.
Creating content has never been easier and simpler than ever. Creating content takes about days or weeks, depending on the concept, and ideas are abundant online. In today's fast-paced world, you can become a top-notch content creator in your niche and platform. Here's how:
Keep up with the latest
It's difficult and near impossible to be a successful content creator if you're living under a rock. The best content nowadays is based on the current and top industry trends. From food to make-up and lifestyle trends, you need to keep up with the latest every single day to become a successful content creator. Setting up Google alerts and reading various news and the latest information on portals can be beneficial.
Know your brand
It might sound obvious at first. However, many fail to excel in this area. Knowing your brand and identity helps you to create one-of-a-kind content and a voice that your consumers or audience can associate with. Do you want to be friendly? Witty? Take them to find inspiration and see what others say about those concepts. Be patient, and it will yield!
Know your audience
Knowing your audience inside and out is another critical aspect of generating successful content. Apart from keeping up with the current, pro-level content creator knows their audience—what they want and don't. You must know their problems as well and where you can find them. Hence, you must not leave any social platform unturned, whether they are Western or Chinese consumers.
Create an engaging content idea
Good content is not just content that your target audience wants to see. Your content must also compel them to comment, share and follow your social profile. Whether it's local or international consumers that you are targeting for your marketing, you must convince them to make comments by asking questions, creating polls, etc.
Monitor your progress
There are tools that one can access to measure the level of success of your content campaign and other valuable data insights. From measuring the level of engagement to accessing a trends report for the week, using tools can help you enhance your strategies.
If you are looking for more content about commerce and other latest trends, visit our website for more latest and trendy content creator videos!