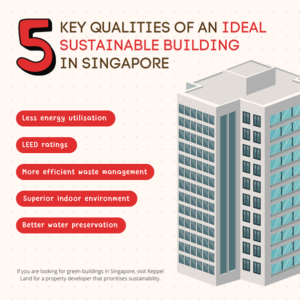 The ever-growing environmental concerns are prevailing and technological reconstructions must provide an active call for implementing sustainable solutions. Executing greener buildings is the role of almost every property developer in Singapore for better sustainable infrastructure.
Sustainable development provides cost-effective greener solutions and an energy-efficient approach. An impeccable infrastructure and designs provide a better role in developing burgeoning neighbourhoods. More vital development can deliver significant advantages on local sustainability over the burden and impact of pollution. Here are some must-have qualities of a sustainable building today:
Less energy utilisation
Contemporary infrastructure still requires using energy for running appliances and electronic components essential for the operation of the building. Nonetheless, an ideal sustainable building in Singapore should consume less energy. According to Leadership in Energy and Environmental Design (LEED), a green building uses at least 25% less energy in comparison with an ordinary commercial building. Today, infrastructure can take better initiatives and measures for installing solar panels and energy-efficient lighting.
LEED ratings
LEED rating matters in a global standard for building sustainable facilities management and property development. LEED provides insights for investors implementing sustainable management practices for building efficient greener buildings. A LEED certification is given to valid infrastructure that adheres to responsible construction practices. The LEED rating system is widely recognised and accepted globally.
More efficient waste management
Overflowing landfills have become a major concern in many urban cities. The contemporary issue with this lies in the lack of efficient waste management practices in metropolitan areas. Sustainable buildings should have the goal of keeping waste to a minimum degree. Waste materials generated should be composted for reuse and recycling.
Superior indoor environment
Another trait of a sustainable building in Singapore is a quality indoor environment. The quality of the indoor space matters for modern-day residences where each unit should have excellent, clean air quality. It should also have ample natural lighting (from daylight), high-quality panoramic views and convenient space designs that promote functionality.
Better water preservation
Water is a critical resource for everyday human needs yet an exhaustible resource that we must manage carefully. Well-sustainable infrastructure development should prioritise better water efficiencies and 'smarter' management. Sustainable initiatives should take water conservation from construction to utilisation/operation of the infrastructure. Water efficiency will become more critical in the coming years and decades with the rising temperature brought by climate change.
If you are looking for green buildings in Singapore, visit Keppel Land for a property developer that prioritises sustainability.